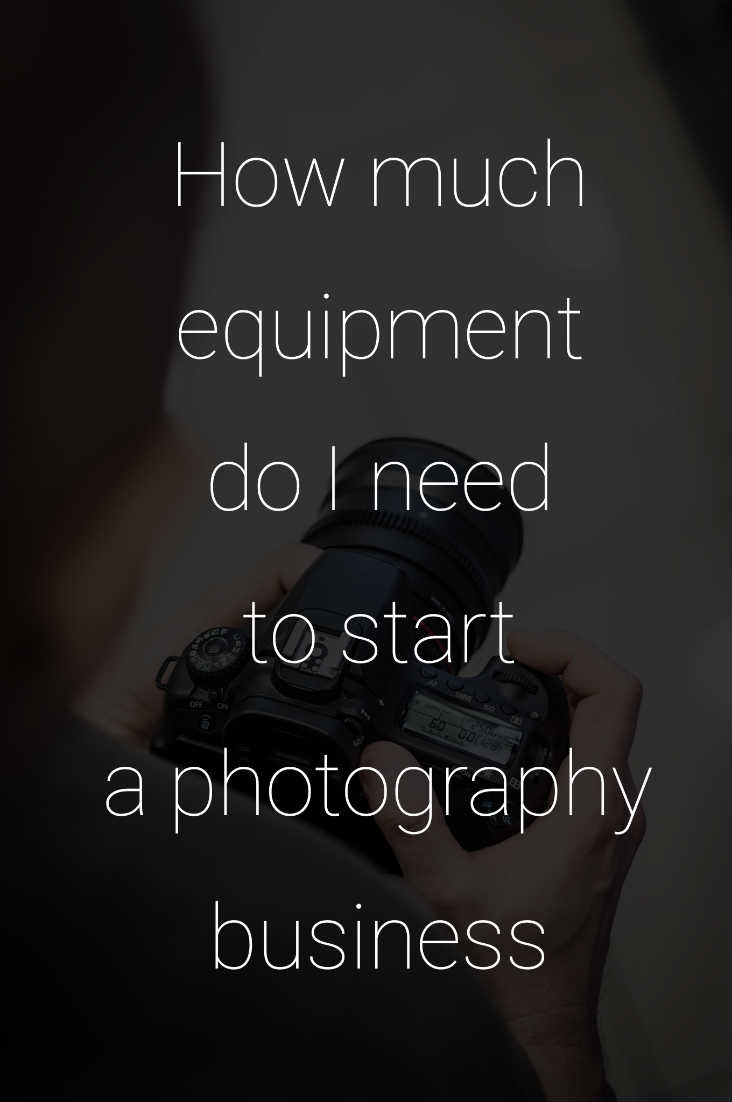 Today's question is from Paul asks:
Question:
I often get asked to photograph different events like parties and dance concerts for friends. They offer to pay me, which has made me wonder. What would be the least amount of equipment needed to start a photography business?
The equipment I have is a camera body, 2 lens and a Macbook.
Answer:
Topics Discussed in this Episode:
Minimum equipment required
Backups
Insurance
Contract
Website
Related reading
19 Must Do Tasks When Starting A New Photography Business
Reinvesting back into the business
What Photo Equipment Do I Need For Event Photography?
What Should I Charge For A Photo Shoot?
How to avoid getting ripped off when buying a 2nd hand lens
Photo accessories that should be in your camera bag
Good day, Paul. Thanks for your question.
Minimum equipment required
What's the minimum amount? Well, one camera body, one lens, one memory card, one flash, computer, and that's it, really. That's minimum. That's the utmost minimum you can use, Paul. We all know that if we're in business and we want to be professional and we want to be the type of person that wants to do the right thing for our customers, then having backups is definitely the way to go.
I used to photograph with just one camera lens, one body, one memory card, and a computer that was five years old, and I'm thinking now it just makes me cringe.
If I had to photograph late in the afternoon, it was a struggle. Anything past 1600 ISO was just so grainy and the computer, once I loading it in to the computer was just so slow. It took 40 minutes to download the photos off from the camera. I'd go and have dinner, come back, and it's still hammering away. Thank God I don't do that anymore and I've progressed from there.
When I upgraded, I upgraded to another camera body, which wasn't the same model. There are pros and cons to that. You've got two camera bodies, which is great. You can have two different lenses on them, but also as a backup if you're only just using one lens.
The other one can just sit in your bag or even the car. What I noticed was is that because the cameras were a few years apart, the quality of the photos that came out of them was words apart. Low level ISO, I could shoot 6400, even higher, and be quite comfortable with the other camera, with my first camera was, anything after 1600 ISO, it was just so grainy, you might as well just pack up and go home. It was really bad.
I had two different cameras. Of course, one became the backup, which I slowly didn't use over time, and then as I got more clients and put more money into the business, it got to a point where I could actually purchase two camera bodies that were exactly the same, and it made life a lot easier.
I'm not saying you need that straight away, Paul, but just giving you the options and what actually means having two camera bodies that are the same, because you can set them up the same, you can have the same performance from them, so it doesn't matter which camera you picked up, as long as you have the correct exposure, you wouldn't be able to tell the difference.
So that's definitely a must. You got to have two camera bodies in case you drop something. Same thing applies with your lenses.
You mentioned you've got two lenses. If they're short, so like a wide angle lens and then something like a 70 – 200mm, a little bit longer, doesn't have to be much, much longer there if you're doing indoor concerts or parties.
Maybe an indoor dance concert you can probably do with a 300mm but once again, if you got something like a 2.8 lens, it really will help you out in the indoors low-light. I tend to have 24-70mm, 70-200mm. I do have a 100mm macro. I do have a 50mm prime and, of course, I have longer lenses when I do sports photography, but for this type of photography you're doing here, which is event photography, predominantly for concerts and parties, a shorter lens and a longer lens is great to have.
You can do portraits, you can do little group photos, and you can pretty much do what you need with just two lenses. It's nice to have a little bit of overlap.
That's why I tend to have 100mm, which is a macro for when I do weddings, the detached shots, and I don't use that a lot but it's there just in case touch wood something was to fall out of my bag, and then having flash, you've got to have a flash, especially if you're photography indoors, even if you bounce the light off the ceiling, off the walls, or even if you photograph straight at them, it just depends on the situation but having one flash is definitely needed in your case here, especially if you're doing parties, which most of the time they have ambient lighting and it's just shocking and you've got to deal with it and having your own flash.
The onboard flash will only get you so far. The recycle type of an external flash with a little external battery pack works a treat.
You mentioned here you've got a MacBook. That's fine. When I started, as I mentioned, the computer took 40 minutes to download the photos. It was just painful. Having enough RAM, ample disk space, and a good processor goes a long, long, long way.
Over time, you want to get components, things like solid state hard drives, 32 gigs of RAM, an i7 processor, or whatever processors it may be at the time.
Keep your Images safe with a backup system
Also, backup drive, so you download your photos onto your computer, and then from there you would actually make a copy to an external hard drive, and from there, you can have a third copy, which either would be up in the cloud, so something like Dropbox, Google Drive, Onedrive from Microsoft, or even a third drive instead of using the cloud as a backup.
I find using a cloud as a backup can be a little bit slow and tedious. I know you can make it run in the background, but I just don't want to have my computer running in the background just for purpose of the backups. I prefer to have physical backups, so I would have two external hard drives, one to stay in my office and another one to go in a secure location outside of the house, preferably not within the property.
That saves my bacon, especially if I'm saying to people on my contracts I keep your photos for one to five years, depending on the type of photography I'm doing, I have different contracts, and that if anything was to happen to my computer or the hard drive that's in my house, I'll be saved there.
The other thing is having multiple memory cards. We don't want to run out of space but also if something was to happen, we can just quickly pop a memory card in and then deal with the other photos later because you don't want to be overriding any cropped photos. There's software you can use that comes with if you use SanDisk, I'm sure Lexar will have a similar thing where you can use the software that comes with it to recover any files that may have been corrupted. That's just something to think about in regards to the backup equipment.
Also, if we want to have a photography business. I know that you may just be thinking of starting up, but those are things you need to know, Paul. Having insurance is really mandatory. If I'm around a lot of people and my equipment is there, it can bang into people, I can hurt them. Not that I do that on purpose but it can happen. If I was to drop my equipment, your home contents won't cover that. It's only up to a certain point, but even then, you're using it as a professional, so it probably won't cover you that for that. Having camera insurance that has public liability goes a long way. It gives you peace of mind just like having backup equipment. It just gives you that peace of mind knowing that if something was to happen, you'd be covered.
I've dropped stuff. I've dropped stuff in water, I've dropped stuff while being on top of a ladder, the strap hit my knee and slam, it just camera dropped and broke the lens off the mount. Funny enough, it was actually the same camera and lens that fell into the water, so I don't know, maybe that was cursed. I don't have that camera and lens there anymore but yeah, so that's just something to think about.
Make sure you have a contract
Having a contract, very, very important because you need to let your clients know what you can provide and what they will be receiving. Things like telling them that you'll be delivering photos within X amount of days, this is what they get, they're paying for XYZ, and things like that, but also having clauses in there to save you.
For instance, from camera failure. God forbid, you've got backup equipment and then something happens to all that, so if you have a clause in it that says you're not liable for backup failure or even if the people that own the establishment restrict you.
I've heard situations and I've talked about it on the podcast before where the lights, the house lights within the reception were too dim, asked repetitively to raise the lights so my cameras could focus because they're finding it difficult to focus when there was dancing going on because as you know, when the dance is going on, they've got strobe lights and all sorts of stuff, and it's just focusing is a nightmare.
If the house lights were a little bit brighter, my camera would have maybe been able to focus more, and it just meant I had to photograph … Well, I had to work a lot harder and my keeper rate was a lot lower, from 100 photos, I may have gotten maybe 10 photos that I was happy with, as opposed to maybe 50% or 60%. You know what I mean?
That's just something to think about. Having a contract and going to a lawyer is definitely a must for that. We'll link some additional reading in regards to 18 things you need to know when you're starting a business, and that's just something, just a little bit of light reading. It's only 3000 words. It's not that long but it's just something to get you started and to think about, Paul.
You will need a website to show off your photos
Lastly, a website. Using a service such as Studiopress Sites. Learn more about StudioPress Sites here
They're very good in the sense that it is a wordpress based site, they do all the backups for you, they do all the security for you. They have allow you to use all sorts of plugins just like you normally would as if you were to host it yourself.
Yes, there is a fee that you have to pay but what you're paying is for someone to do all the backups and security and updates and it just hey, we're photographers, right? We should be photographing and getting clients. We shouldn't be stuffing around with all the other stuff.
As much as we might enjoy doing that type of thing, there are sometimes that we should be concentrating on getting more business or photographing or editing, so that's just something to think about.
I know when you're first starting out, Paul, yeah, definitely. One camera, one lens, one memory card, one flash, a computer, a website.It'd be great if you had some sort of backups, an external little hard drive and insurance and a contract. That's really it as a minimum.
I know you ask for equipment but some of these other things, especially the insurance, contract, and the website, they're definitely something that you do need when you're starting a business and it does help you.
They don't have to be perfect because you can always work on them, can't you? It's one of those things, especially with equipment.
The reason why people charge so much as photographers because their equipment costs a lot. We have to sell a certain amount to be able to make that money back. Think about it. If you're buying two digital SLRs, two lenses, two flashes, it's easy $15,000 if you were to buy them brand new. You can get all this stuff secondhand and there's nothing wrong with that. You just need to do your due diligence and just be a little bit wary as to where you're purchasing them. Make sure you purchase stuff in person.
I do actually have another podcast that talks about buying secondhand lenses, so I'll link to that, too. Yeah, Paul, that's pretty much it. I hope that helps and thanks for your question.