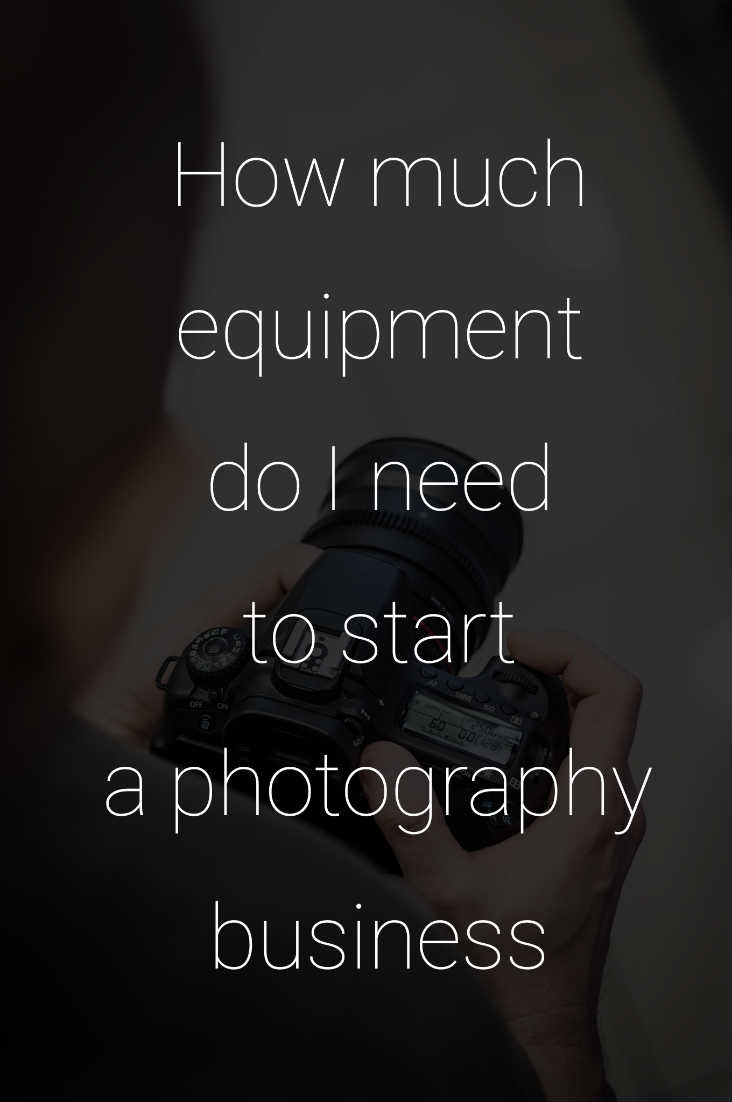 Today we will be looking into how much equipment you need to start a photography business. Paul sent in a question and said,  I often get asked to photograph different events like parties and dance concerts for friends. They offer to pay me, which has made me wonder.  What would be the least amount of equipment needed to start a photography business?
I have a camera body, 2 lenses and a Macbook.
The minimum equipment needed to start a photography business
The minimum amount of equipment needed to start a photography business is one camera body, one lens, one memory card, one flash and a computer to edit your photos and that's it, really. 
That's the utmost minimum you need to get the job done. 
But, We all know that if we're in business and we want to be professional, and we want to be the type of person that wants to do the right thing for our customers, then having backup equipment is a must.
Minimum equipment
1 camera, 1 lens, 1 flash, 1 memory card and computer
Recommended equipment
2 cameras, 2 – 3 lens, 2 – 4 memory cards, 2 flashes and fast computer
Here is the path I took to build my photography business, through small equipment upgrades.
For about 2 years I used to photograph with a Canon 70 – 200mm, Canon 20D, an 8 gb compact flash card and a computer that was five years old, and thinking about it now just makes me cringe.
If I had to photograph late in the afternoon, it would be a struggle. Anything past 1600 ISO was just so grainy.  Loading photos into the computer was so slow, It took 40 minutes to download the photos off from the memory card. I'd go and have dinner, come back, and it's still hammering away. Thank God I've progressed from there.
When I added another camera body, It was great. I had two camera bodies to work with. But they  weren't the same model.  There are pros and cons with that which I'll explain in a bit.  But It was nice to have the ability to use two different lenses at the same time, but also as a backup if only just using one camera.
What I noticed was that because the cameras were a few years apart, the quality of the photos that came out of each camera was worlds apart. 
Low level ISO, I could shoot 6400, even higher, and be quite comfortable, with the other camera anything above 1600 ISO, it was just so grainy, you might as well just pack up and go home. It was really bad.
I had two different cameras. One naturally became the backup, which I slowly didn't use over time, and I got more clients and put more money into the business. It got to a point where I could actually purchase two camera bodies that were exactly the same, and it made photographing and editing a lot easier.
I'm not saying you need that straight away, but having two camera bodies that are the same, because you can set them up the same, you will get the same performance from them, so it doesn't matter which camera you picked up, as long as you have the correct exposure, you wouldn't be able to tell the difference unless you are at a different focal length.
Also having two camera bodies in case you drop one on the job is a must. Same thing applies with your camera lenses.
You mentioned you've got two lenses. If one is a short lens, such as a wide angle, 24 – 70 mm and then another lens like a 70 – 200 mm, doesn't have to be much longer if you're doing indoor concerts or parties, but it will depend how close you can get to your subjects.
For an indoor dance concert you can probably do with a 300 mm, if you can't get close and a F 2.8 lens will help in a dance hall that has bad lighting conditions.
I recommend 24-70mm and 70-200mm as with those two lenses you can cover a lot of events. 
I do have a 100mm macro for close up details. I also have a 50mm prime for backup and, of course, I have longer lenses when I do sports photography. 
But for the type of event photography you're doing, parties and dance concerts, predominantly a shorter lens and a longer lens is great to have.
You can do portraits with the f2.8 70 – 200 mm, you can do little group photos with the f2.8 24 -70 mm, you can pretty much do what you need with just two lenses.
If possible It's nice to have a little bit of an overlap. That's why I tend to have F2.8 100 mm as a backup, which is a macro lens and perfect for the detail shots at weddings or a portrait lens, I don't use it a lot but it's in my camera bag, just in case I dropped my 70 – 200 mm.
External flash
Next is an external flash system, you've got to have a flash, especially if you're photographing indoors.
You can bounce the light off the ceiling, off the walls, or straight at your subject if it's that dark.
Having one external flash is definitely needed, especially if you're doing parties and events. 
While most of the time the venue has shocking ambient lighting, using a flash will help with properly exposing your photos and reducing the need to bump up your ISO.
The onboard flash will only get you so far and will give you harsh photos most of the time.  
The cycle time of an external flash is much faster than the onboard flash, add an external battery pack to your external flash and cycle times are halved, meaning you can take photos faster with your flash.
Computer for photo editing
You mentioned here you've got a MacBook. As long as it's not too old it will do the job.
When I started, the computer I had took 40 minutes to download the photos. It was extremely painful. Having enough RAM, ample disk space, and a good processor goes a long way.
Over time, if possible, you want to add components, like a solid state hard drive, 32 gigs of RAM, an i7 processor, or whatever the fastest processor may be at the time. 
Your MacBook won't allow much of an upgrade path, so it may be your next computer purchase. 
The best use of your money would be to purchase a desktop rather than a laptop unless you need the laptop because you edit offsite or you have limited desk space.
A desktop computer will allow you to have higher end components for a cheaper price.  You can set up your computer to have a solid state drive to hold your applications like Lightroom and Photoshop and a second drive to store all of your photos. So when it comes to doing backups, you could take a backup of the whole storage drive or individual folders, depending how you decided to set up your backup system.
Even though it is possible to run more than one monitor with a laptop, doing it from a desktop will make it easier, as most high-end graphic cards allow at least two monitors to be run from the one video card.
Ram is also cheaper for a desktop and you can fit more ram into the motherboard, than you would with a laptop.  
You need 8 GB just for the operating system,  so 16 or 32 GB if you're editing with Lightroom and Photoshop.
Backup system to Keep your Images safe
A Backup system for your photos is essential. 
A basic, but effective backup system is
Download the photos after a shoot onto your computer.
Make a 1st copy to an external hard drive, keep on site.
Make a 2nd copy on a 2nd external hard drive, keep off site. or use cloud storage as a backup.
I find using cloud storage as a backup to be a little bit slow and tedious. I know you can make it run in the background, but I don't want to have my computer running in the background to upload my RAW files and JPG images. 
I prefer to have physical backups, so two external hard drives, one to stays in my home office and another one goes to a secure location off site.
This backup system has saved my bacon. Especially when my contract states that I will keep photos for 1 – 5 years, depending on the type of photography event. You would be surprised how many requests I get from customers I photographed from 10 years ago to send through their photos again because they lost them.
Multiple memory cards
Multiple memory cards so you don't run out of space but,  also if something were to happen to a memory card, like corrupt photos. You can just quickly pop a memory card in and deal with the corrupt photos later because you don't want to overwrite any photos so you can retrieve them later. 
There's software you can use that comes with SanDisk memory cards, I'm sure Lexar has a similar service.  Recovery software to recover any files that may have been corrupted during a photo session. 
Extra Batteries
Most camera batteries give you about 200 – 400 photos, depending on the size of course. So extra batteries are essential to last the whole event. 
Most events I cover are at least 4 – 8 hrs long. I'm usually taking  2500 –  3000 photos, add to that reviewing the photos on the camera lcd. I generally go through 3 – 4 camera batteries, if it's an indoor event. Add two sets of 4 double AA's for the flashes. 
Buying the original manufactured batteries is best so you don't void your camera warranty.
Backup photography equipment
Backup photo equipment is a must, So you can finish the job if you were to drop your camera.
I know that you are just starting out. It's not something you would be thinking of since it's an added expense. 
I've dropped lots of camera equipment.  I've dropped my camera in water, I've dropped it while being on top of a ladder, I've also broken a flash while kneeling down to take a photo!
Funny enough, it was all the same camera and lens combo, maybe that equipment was cursed…
Camera insurance
Having insurance is also mandatory. If you're around a lot of people with your photo equipment, you can bang into someone or they trip on your light stand and end up hurting them, I can hurt them so public liability insurance is a must have.
If you drop your camera equipment, your home contents won't cover that. 
As a photography business,  home contents insurance won't cover you. Having camera insurance that has public liability goes a long way. It gives you peace of mind just like having backup equipment. It just gives you that peace of mind knowing that if something was to happen, you'd be covered.
Make sure you have a contract
Having a contract is very important because you need to set your clients expectations ahead of time.
The contract will state when the photos will be delivered, how much the job will cost.  But also contain clauses to save you in the event of a problem outside of your control.
Such as camera failure. God forbid, anything was to happen to your backup equipment also. if you have a clause that says you're not liable for camera failure, this will give you peace of mind.
Also if the owner of the venue restricts your access or won't work with you to get the best results.
I've had situations, where the house lights within the reception were too dim, I asked repetitively to raise the lights so my cameras could focus better.  Sometimes digital cameras don't have enough contrast or light to focus, like during the dancing at the reception. Strobe lights and mixed colours can make focusing a nightmare.
If the house lights were a little bit brighter, my camera would have been able to hit focus better and allow me to get more keepers.
Having a contract drawn up by a lawyer is definitely a must when starting a new photography business.
Website to show off your photos
A website based on WordPress will give you the flexibility to create an online presence and you won't have to rely on social media to get your customers. 
I suggest using WordPress.com with a custom domain as a start.
They will take care of your website backups, security and everything you need to get started, so you don't have to.
You won't be allowed to use plugins unless you pay for the more expensive plans. To be honest, you should be concentrating on getting new customers, rather than worrying about the design too much. 
Yes, your website should look good. So pick a theme that works for you, fill the website with your portfolio and information about your photography services.
When you start to make money, you can hire a designer to fine tune your web design.
Conclusion
I know you're starting out. so, 1 camera, 1 lens, 1 memory card, 1 flash, a computer and a website. It'd also be great if you had some sort of backups, an external hard drive, insurance and a contract. That's really it as a minimum.
I know you ask for equipment but some of these other things, especially the insurance, contract, and the website, they're definitely something that you do need when you're starting a business and it does help you.
One reason why photographers charge so much is because their equipment costs a lot. We have to sell a certain amount to be able to make that money back. 
Think about it. If you're buying two digital SLRs, two lenses, two flashes, it's easy $15,000 if you were to buy them brand new. 
You can get all this stuff secondhand and there's nothing wrong with that. You just need to do your due diligence and just be a little bit wary as to where you're purchasing them.