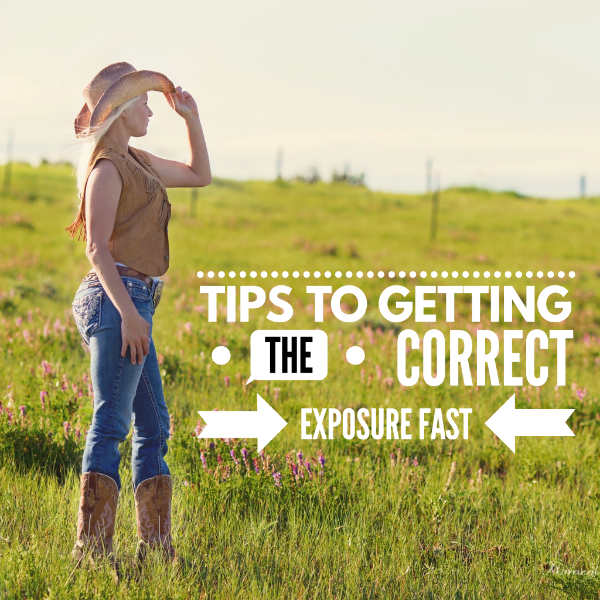 Finding the correct exposure fast is something all photographers try to consistently do, especially when under pressure like during a portrait session or when photographing an event. There are a few fail proof techniques you can do to achieve the perfect exposure. Which can be used using manual exposure and semi automatic modes like AV and TV.
Today's question is from Gary. He recently started doing family portraits, but Is finding that he is taking a lot of photos just to get the exposure right.  
Gary then starts to get nervous because he feels his customers are waiting a long time for a simple photo.  He normally photographs landscapes and brackets his exposure but using this technique for portraits is taking too long.
What are some tips to getting the right exposure fast?
10 Techniques to finding the correct exposure fast
Practising before the session
How to read the exposure meter
Manually Setting your exposure
Find an exposure using semi Auto modes
Using your hand to set your exposure
Using the grass to set your exposure
Using spot metering mode
Setting your exposure as you walk to the location
Using the one of the family members people as a test
Telling them you're taking a test shot
Gary, thanks for your question
Yes It can be daunting especially when you're just starting out.
I can understand exactly where you're coming from.  I used to feel the same way when I first started and I did exactly the same thing. Not having confidence and taking extra photos just in case.
The family is right there standing patiently waiting for you while you fumble with your camera while trying to stay calm!
The thing is you've just got to get your exposure correct before you put them in front of the camera. It will allow you to concentrate on them, so you can interact with them, getting them to laugh and posing them. But most of all it will remove a lot of the stress you're experiencing.
Practising before the session
The reality is you should have the basics down before you can start to charge for your services.  That means practising by doing free photos sessions to get a feel for interacting with people.  
But before you get to that stage practice without people in front of the camera.  That's going to be the easiest way.  You won't get nervous since you won't have people staring at you as you try to nail the exposure.
Using objects like a doll or stuffed toys or even a bowl of fruit.  Start by only changing one sitting at a time.  
Lock in your aperture and ISO first and use your shutter speed to fine-tune.
How to read the exposure meter
Your camera will have a metre that you can access via the viewfinder or by the rear LCD screen. Depending on the camera manufacturer the metre will be located at the bottom or on the side.
 It will have Zero in the middle with the numbers 1 to 3 on either side.
Each whole number is a stop of light,  and markings in between these whole numbers are a third of a stop each.
Think of your exposure metre as a scale.  The middle is neutral and balanced. The left hand numbers are minus so – 1 – 2 – 3, if the needle is in this area the photo will be dark. On the right-hand side + 1 + 2 + 3, if the needle is in this area the photo will be bright.
A perfectly exposed photo would be dead centre.  But since this is not always the case, as it depends on what is in the scene. 
Sometimes if you're photographing in the snow or very bright reflective objects the settings needed to get the exposure may not be directly in the centre.
One way of getting consistent exposure that is close to perfect is to expose for the highlights and let the shadows work themselves out.
What this means is that if you use your exposure metre to read different parts of the photo, you're more than likely to have bright areas and dark areas and you need to compromise and find a happy medium.
To do this it's better to expose for the bright areas of a photo and the rest of the photo will come close to the exposure or be a little dark but of course you can rectify that in your post processing.
There are times that this may not work and that is when you photograph something with a lot of bright objects such as snow or very bright white sandy beaches, and when you expose for the highlights everything will be quite dark.
So it is important to set the " exposure to the right ", this means you're asking the camera to add a little more light ( + ⅓  + ½ + 1 stop) to the exposure and therefore the dark areas will not be extremely dark and the bright areas will be brighter but not overly bright. 
Once again you can make final adjustments to your photo using your post processing software since in these conditions it can be hard to get a perfectly exposed photo depending on what else is in the photo.
Manually Setting your exposure
To manually set your exposure you need to set the aperture, shutter speed and ISO.  
Set the aperture first to determine the depth of field,  knowing that if I'm taking photos of one person It might be F2.8 or F4.
A group of people could be F5.6 , F8 or even F11 if it's a large group of people.
Then using just the iso,  go up and down the iso until the needle is in the center, or close to it.
If it's a sunny day using ISO 100 or lower is a good starting point.  If it's overcast starting with ISO 400. And when it's golden hour or towards the end of the day, push the ISO from 800 and up to get a baseline.
Then using the shutter speed to fine-tune your exposure. 
A good starting point is the shutter speed to match the lens length.  
For a 50 mm lens,  1/50.    200 mm lens,  1/200   
This is simply a guide and a good starting point to avoid blurry photos.  You could use a slower shutter speed but it takes practice to not have camera shake.
But for this exercise I want you to concentrate only on changing one sitting at a time and understand what is happening in the photo when you make a change.
Down the track when you become more confident you can use any one of the three settings to set your exposure to achieve different looks to your photos e.g  adding shadows. 
Find an exposure using semi Auto modes
All cameras have what is known as a semi automatic mode such as aperture value (AV) shutter, time value ( TV ).
AV mode allows you to set the aperture and the camera will automatically change the ISO and shutter speed to get the correct exposure.
TV mode allows you to set the shutter speed while the camera will automatically adjust the aperture and ISO to get the correct exposure. 
The benefit to using the semi-automatic modes is that your exposure will automatically be set for you really fast.
The negative is that since the camera is making the decision for you it may not meet your expectations of how the photo should look.
What I mean by this is that the photo may have too much shadow, but still be exposed or,  not enough shadows in the photo and yet still be exposed depending on if you're in a shaded area or in Bright sunlight.
Of course you can fine tune how the camera sets the exposure while in any of the semi automatic modes, by adding or removing stops of light from a third of a stop all the way up to 3 stops,  plus or minus but remember it's constantly changing so you need to be still actively monitoring the exposure.
The semi-automatic exposure modes are excellent for new photographers that want to move away from complete Auto mode as it's a step in the right direction which is manually setting your exposure.
By looking after the photos taken, you can use the histogram but also the exif data to understand what settings were made to achieve the end result.
Using spot metering mode
We have spoken about shutter speed, aperture and ISO which are important to setting your exposure, another important aspect to setting exposures is how your camera reads the scene in front of you.
And that is when you use the different metering modes. 
A metering mode is used to tell the camera how you want to react to the light source in front of you.
Even if you have manually entered your settings into the camera for the exposure.  If you were to point your camera at light and dark areas in the scene in front of you, the exposure needle in your viewfinder will move accordingly. 
Now there are times when you want to have more control over your exposure as an example if you're photographing a scene that has a lot of white such as snow or a bride's white dress or even a scene where the maybe objects that are quite dark such as a man suit or a shaded area.
Using a different meeting mode metering mode can help you get closer to the perfect exposure without getting fooled by how the cameras interpret the scene. 
Using a metering that is suited for the photo your about to take will give you a more accurate reading in your viewfinder.
The difference metering modes are spot metering, evaluative metering, 
And they all register different amounts of the scene from 5 or 10% all the way up to the full scene.
The best all round metering mode I found is the spot metering.
Spot metering uses the centre AF point autofocus point and what I like about using that.  The cameras only use a small portion of the frame, about 5% or thereabouts depending on your model of camera.
When you're pointing the camera at an object when using spot metering.   The meter in your viewfinder will not be influenced by other objects in the sense. 
Whereas the other exposure modes take a larger portion of the scene in to account, and can give you a very bit different exposure and may be harder to get your exposure depending on other elements within the scene,  such as if there are bright shiny objects that reflect light,  if someone's wearing dark clothes compared to another person within the portrait that may be wearing a white t-shirts.
This is why it's important to use spot metering and point the centre autofocus point at different objects within the scene both light and dark objects. You noticed the exposure needle and your job is to find a happy medium.
Using one of the family members as a test
Using one of the family members as a test to find the exposure is another way to get your exposure. 
Starting with your aperture. For 1 to 2 people like in an engagement session. Try f4,  For a small  group of people try f8  
Your aperture should already be set for the amount of people that you're going to photograph even though your test is only going to have one family member. 
The advantage of using a family member is that you are also taking a reading of the skin tone which can sometimes throw the camera's metering off if you have different types of skin tones in the one photo. 
This why you want to use a family member preferably someone that has the darkest skin tone out of the group.
Setting your aperture and then fine tuning the exposure using shutter speed and ISO.
Setting your exposure as you walk to the location
This is a trick I use with my event photography since you're constantly moving to different parts of outdoor or indoor settings.   If it's a wedding or even inside when you're doing a reception hall different areas will naturally cast different light sources.
So as you're walking to a location with the couple or family. 
Lift your camera to your eye and point it in the general direction, while you're  chatting to them, but do not take a photo.
By pointing your camera in the direction of where you're taking your next photos. The light will enter the camera lens and hit the sensor which in return will start to move the exposure needle in your camera.
Keep on talking to your clients and make the necessary adjustments to get the needle so it's  close as possible to the centre.
You'll find that since you've already taken photos you have your aperture set and if the scene is generally in the same type of brightness then you may have to do one or two clicks of the shutter speed to find your exposure fast.
IMPORTANT: When you're walking with a camera to your eye be careful there are no obstacles in front of you.
Using the grass to set your exposure
Another thing is using the grass as a way to meter for the exposure. This is something I do when shooting sports photography.
Before the teams come out,  I point my lens into the grass about 20-30 meters in front and try to get the exposure.
That way there will only be a slight shift in the shutter speed.  No need to change your aperture or the iso as that is already set, But that's a good starting point.
This technique is very similar to the one I just spoke about walking to location, because you're exposing for the general area of where the photos will be taken and that's why using the grass if you're outside taking family photos this will work well it's also a good effective way to get good skin tones as well.
Using your hand to set your exposure
Another thing you can try is extending your hand out front,  fingers up pointing upwards.  When you take a photo you're exposing for the skin tone, which is perfect for portraits.
This is good as a starting point to find your exposure especially if you haven't reached the area where you're going to be photographing and it's good for you to expose for skin tones and a good way to see how the light is falling on an object. I.e. Is the light soft or is it harsh.
The bonus of this technique is that only you need to be there to set the camera up as a starting point before you start the session and you can fine tune the settings as you're walking to location.
Telling them you're taking a test shot
Having the confidence to just say "I'm taking a quick test shot, please talk amongst yourselves.
Take a couple of photos and you should at a point only have to make slight changes if you used one of the above techniques or a coming from another location.
Your clients will completely understand, keep calm and be confident.
Conclusion
And that's how to find your exposure really fast. If you take anything away from what I have explained today and that is to practice in different situations and especially where the photo session will take place.
So if you're photographing outdoors you will know your shutter speed, aperture and ISO. And of course if you're indoors this will be different again, but you will have a starting point for both conditions. 
I hope these tips help you for next session when you are trying to find the correct exposure quickly and without stress.
FAQ on finding the correct exposure 
Do I need an expensive lens to find the exposure?
Not at all you definitely do not need an expensive lens.

The only difference between an expensive lens is it will have the aperture that when you set the aperture stay constant compared to a lower cost lens which will has a variable aperture, so  when you zoom in and zoom out the aperture will change depending on how much you have zoomed in or out..

As long as you keep that in mind and work within those boundaries you'll be just fine.
Does it matter what camera I have?
The camera that you use to photograph doesn't really matter.

Although when you're using a camera that has control such as the aperture, shutter speed and ISO as separate buttons on the outside of the camera does make your job easier compared to say a camera that you have to go into the menu system to make these changes that would be the only difference.
What about semi automatic modes like TV and AV
These are great modes to start on if you want to progress from the automatic mode.  Because these modes allow you to have one constant setting while the camera will work out the other two settings for you.  It's great to learn on but sometimes the camera can make mistakes and you may not get the results that you are after.