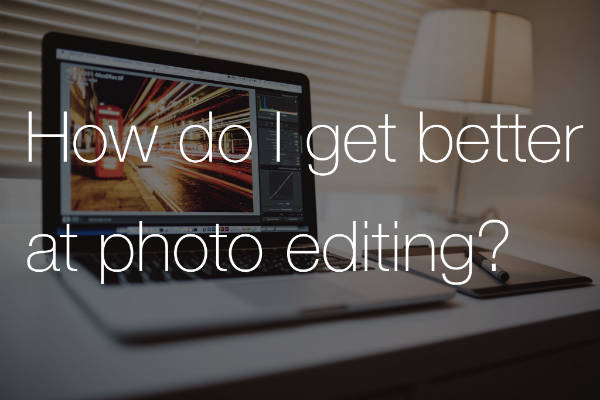 I love taking photos everyday. But, I'm frustrated when it comes to my post processing.  I am a member of a few Photoshop and Lightroom facebook groups. WOW, the skill of some of the people are just amazing.   Changing backgrounds, removing objects, swapping heads.
There have been times I wish I can could remove distracting objects. Do you have any tips on how to get better at editing my photos?
9 ways to get better at photo editing
Getting it right in camera

Shooting RAW

Using layers in Photoshop

Creating virtual copies in Lightroom

Using presets to edit and as a starting point
Free and Paid edting classes at Phlearn

Free and Paid edting classes at Creative live

Free edting videos at Youtube

Practice, practice, practice
Hey, Lily, thanks for your question.
This is one of those questions that it's kind of, there's no right or wrong. Should we be processing our photos to the nth degree that it doesn't look like a photo? Should we be removing objects from our photos? There's no right or wrong. What you want to do is completely up to you.
Now, having said that though, there's probably a few things that we should do before we edit our photos. Getting it right in camera, as much as we can, will help reduce the editing of our photos later.
Now, I'm not talking about head-swaps and things like that at this point. There's a time and place for that. You know, if we can get at least 90% of our photos completed in camera, so our composition, our lighting, that type of thing, if that's all worked out, we could reduce a whole heap of time and a whole heap of worry as well from ourselves.
You mention here that you wish you could remove distracting objects. That's fine. You don't mention as to what the objects are but it could be people, it could be lampposts, it could be all sorts of stuff.
Things is, before you actually photograph, you should be composing your photo in such a way where you don't have these distracting objects in the photo, right?
I know that there are times you just can't avoid that and, you know, if you're at, say, a landmark and you want to remove all the people, then that's different, right?
You're more than welcome to go and remove it and clone everyone out. You know, it's one of those things that, if you can pre-visualize your photo and get as much done in your camera, you'll save a lot of time in the back end, which is the editing part.
Knowing basic editing techniques such as how to light and dark a photo, how to add sharpening, how to do contrast and work the highlights, these are basic tools everybody should know how to manipulate.
Shooting in RAW
Before we start removing heads and objects, we should know that. Working with a file format such as RAW will help editing our photos later on because, with the RAW file format, there's just the information from the camera.
It's not post-processed like a JPEG. So, with the RAW file format, when you bring that into your editing software of choice, the photo's going to become quite flat because when we take a RAW photo it actually shows us the JPEG version on the back of the camera and everything looks nice and punchy and the nice colours.
What I do like about the RAW format is the latitude in exposure and some of the settings. So, for instance, if I'm a little bit off with my exposure because things happen, right? If I'm photographing a bride and I'm photographing one way and then I turn around because stuff going on, I may have not changed my exposure or I may have changed it a little bit too late and taken a few photos beforehand. Well then, the RAW file format has that latitude where I can bring the exposure back and correct it.
Also, the other thing is that, when you've got a JPEG file format, pretty much what happens as you take the photo, these are baked into the file. So, you know, the colour balance, the exposure, any of the other presets that you may have in your camera, it's all baked into the file and it can be done later in post and make changes to that but it's a little bit more difficult and the results are not always optimum, so that's just something to think about.
Using layers in Photoshop
Next would be using, if you're using Photoshop, is to use layers. So for every single tool that you use, change a layer and then make those changes. Then, if you make a mistake, that's right, get rid of the layer, not problem. Whereas if you just use the history panel, there's only so much you can go back.
Creating virtual copies in Lightroom
If you're using Lightroom, using virtual copies. I like to use quite a fair bit myself and I've got different versions of the same file. One could be a preset that I've applied.
Another one could be just black and white. Another one could be just a slightly different edit, but then I'll also have, of course, the nice, clean edit that I created that the exposure and everything is perfect on.
So, it's just another way of getting creative and just practising .
Using presets to edit and as a starting point
Next would be using presets as a starting point. In full disclosure I have presets that I sell in my store.
I have presets that allow you to change exposures and contrasts and highlights and so on and so forth, but then I've got other presets that allow you to … They're very similar to a 1-click preset.
So you click it and your photo will come as close as possible to what the preset's meant to do. Now, when I say close as possible, there is no such thing as a 1-click preset so to speak.
The reason being is that the reference photo or the photo that they created the preset on is a certain exposure and contrast and highlights and so on and so forth.
If your photo's not close to that, your end result is not going to be the same as the preset. For instance, if your photo is underexposed by two stops and the starting point of the reference photo was bang-on, correct exposure, well, then your photo is going to be still underexposed.
That's why I say, with presets, especially the 1-click presets, use them as a starting point. You should always do that. You know, you can either create your own or go on from there and just tweak them for your style.
Online learning: Free and Paid
The next thing would be to go to websites such as Phlearn.com and I'll put the link in the show notes and also CreativeLive dot com or even YouTube dot com. All three, Phlearn is free, I believe he also has some paid products.
CreativeLive is free to watch but if you want to download you can.
Also, YouTube, we all know YouTube, it's free. You know, you've just got to practise and watching these videos is one thing but to actually mimic what they're doing is another and you really, really should practise as much as you can.
What I tend to do is have some photos that I put aside and I use these as my reference photos or photos that I like to just work on. What this does is it teaches me a few things.
I mentioned earlier that I like to pre-visualize my photos. When I pre-visualize a photo and I take a photo and it's not quite right, then I go edit it.
Next time I go out, take a photo in a similar location or a similar type of environment, I'll know. Okay, you know what, the exposure here was slightly off and to make a better quality photo I just need to maybe work the scene a little bit better, meaning that maybe the angle of where the light was to the subject needs to be changed or I just need to maybe use external lighting or something else, okay? So, what I'm doing here is learning from my photos.
That's how I treat editing. You know, there's nothing wrong really to go and remove distracting objects. You shouldn't use that as an excuse to go and go, "Right, I've taken a photo. Don't worry, I'll get it done later." Because that's wrong.
You're not really learning because, you know, digital files, it's all cheap. You've already got the memory card, you can take stacks. It doesn't matter. Take multiple photos of the same thing, you know? Recompose. Try to get as much done in camera and that way you'll learn a lot more.
If you just practise every day, Lily, you'll definitely get there. Don't worry about the other people that you see that can change backgrounds or remove objects or whatever, swapping heads. You'll get there, don't worry about that.