I've been a professional photographer since 2004 and predominantly work from home to keep my expenses down.
Before becoming a professional photographer I was in a corporate role for many years.
I firmly believe that my time as a corporate employee has set me up for a successful professional career as a photographer. As a result I can work from home and have the flexibility I need to make it work for me and my family.
The reason is simple. It's because I learnt to have structure in my workday.
As a small business owner, I have placed the correct policy and procedures, designated work area, a daily work schedule that is easy for a one person operation to follow when working from home.
In this guide on working from home as a professional photographer some of the things I will cover are
Why you should work from home
What is a professional photographer
Setting your work hours
Setting up processes and procedures
Staying organised
Planning your work week
Equipment
Why work from home as a photographer?
There are lots of reasons to work from home as a professional photographer such as not having to commute to work first in the morning and compared to someone that works in an office job could spend 1-2 hours a day commuting.
Another reason is the added benefit of reducing the cost of running a business. You won't have to pay rent to lease a storefront. You can always meet clients at a coffee shop and make it a casual experience, and even take their photos but you are limited by the weather.
You can set your own hours and don't have to work 9 to 5. Adjusting your work hours to suit your family life for instance, if you have a young family school drop off and pick up are easy to do when you work from home.
Best of all is taking days off work or even only working certain days of the week is another reason why having a home based business is an advantage.
If you enjoy being your own boss, start a new career or simply earn little bit extra money to help pay the bills or for a holiday then work
There are some disadvantages though, one of them being that you don't have any colleagues to bounce ideas off. There will also be times were is will get lonely since you won't have any adult interaction which is why having time off is so important.
Another disadvantage is it being too easily easy to work all hours of the night or even for very long periods of at a time and neglect your own health.
But if you keep on reading and I'll explain how to avoid that and have a happy and successful home based business as a photographer.
What is a professional photographer?
The definition of a professional photographer is someone that earns the bulk of their money from their photography. Either through their own clients or contracting to other photography businesses.
Someone Takes their business seriously and will have a registered business name, insurance for the business proper policies and procedures so they can consistently service their customers and they also have proper equipment for the job as well as some sort of redundancy like backup equipment and a backup system for your photos.
It's possible for a professional photographer to work from home. They can have their own shop or storefront were clients can come and meet the photographer or even have their photo session taken.
A professional photographer can even be someone that is a contractor to other photographers and they can freelance to several photography businesses, they are called freelancers or stringers.
You can even make a living as someone that solely contracts to other large event photography businesses that do school sports, large Club organisations and other high volume event photography work.
One of the best things about being a work from home photographer is that your income can come from many places.  You can do event type photography, you can be someone that is contracted out once a month to a business,  you can sell stock photos,  photograph large parties or events,  weddings,  sports,  product photography the list of photography jobs are almost endless.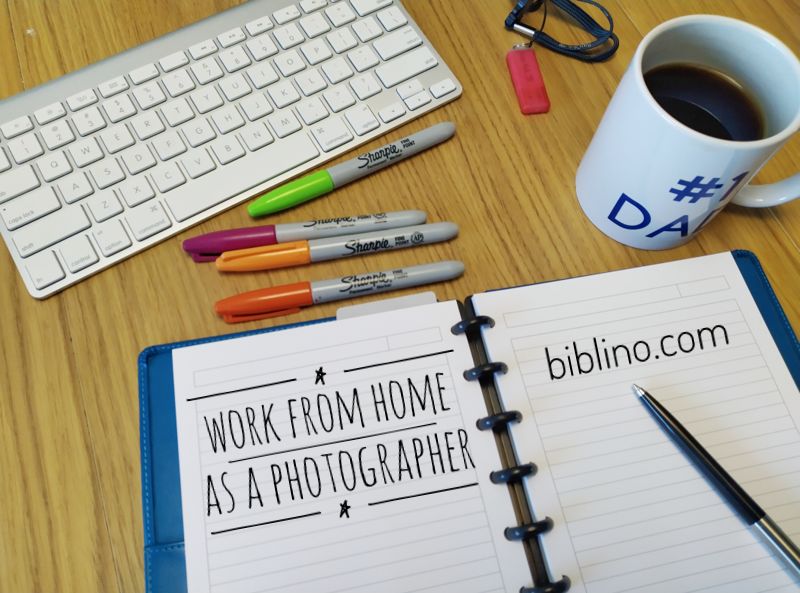 How to work from home as a photographer
Before you start working for yourself, I highly recommend that you first work for someone else. It's not because you won't be able to do it. It's more so you have a head start on what you should be doing when you work for yourself and particularly when working from home as a photographer, because there are so many distractions.
So you probably think as a photographer you simply take photos and deliver them to the client.
Yes, that's true.
But it's the other aspects of running a business that you may struggle with such as setting up policies and procedures for your business, giving proper customer service, using your time wisely and not getting distracted.
When you work for someone else, a lot of these things would be done for you. Because they will already have these important aspects of the business already set up and would want you as an employee to follow them.
So rather than reinventing the wheel, I highly recommend working for someone else even if it's just 6 months to a year. Simply to see how a business is run from getting new clients with ads, to servicing your client's with excellent customer service. What to do if someone complains, preparing for a photos session or event, essentially know what a good work environment looks like. All very important experience to have even if you don't work for yourself.
Basically having all the processes and cross checks in place you need as a small business owner to deliver consistent products to your clients.
Get dressed and be professional
This may seem like an obvious thing to do, such as putting pants on first thing in the morning and making yourself look presentable.
But when you're not in direct contact with clients and you don't see anybody for days at a time it's very easy to slip into a habit when working from home in your pyjamas or less than presentable attire.
I remember when I first started working from home, I already had clients on the books, when it came time to edit their photos. Since I wasn't going to see anybody for the week or so I basically did my photo editing in my pyjamas for weeks at a time. Sounds cool doesn't?
That was the first big mistake , I was so set on making my clients happy the first thing I did was wake up and get to editing the photos so I can deliver them to the client as fast as possible. I'm sure they appreciate it.
But for my own personal health and the people around me it was a big mistake, especially when I became really focused and would not eat, I would be very relaxed with any self-care such as hygiene and exercise was nonexistent.
As a result my health deteriorated and I became unhappy because those few months felt like one long day.
So my advice is get out of bed early as if you are going to commute to an office. Have a shower, get dressed eat breakfast and make your lunch and any snacks and place them in the fridge, because the last thing you want to do is not eat which of course can cause headaches, be sure to have a bottle of water on your table so you keep hydrated.
Most importantly even if you're not going to see any clients still get dressed as if you are going to see someone so don't go walking around with your slippers ware put proper shoes and make sure to look after yourself as the first priority of your work day.
Set your work hours and follow them closely
Out of all the things that I love about working from home as a photographer is that I have the flexibility to set my own hours.
On my editing days I can edit for hours at a time and it only seems like minutes have passed.
But that's part of the problem, we can get stuck in your own little world because you tell yourself that you just need to edit this last section of photos or you need to call that client back.
People that work from home are notorious for working long hours and this is why it's important for not only your own health and well-being, but also your family life that you stick to your set work hours at home.
If your hours are 9:30am – 3:30pm because you've got other commitments then you need to be consistent with those hours. There's no need to come back again after hours to continue working, set client expectations, such as responding to emails in 24 hrs, rather than instantly because you have noted that on your website.
Because from experience, the longer you work the tired, you work slower and make mistake than need to be fixed, as a result you are less productive.
If you're finding that you're not finishing all your work in your core business hours that's ok because we're always going to be there.
If you find that it's taking longer than normal to do certain tasks, maybe you need to re-evaluate how your doing your work, are you being distracted with something else?
Do you need extra from someone else and you may need to hire somebody or outsource some of your work.
Maybe you computer is really slow to process photos and takes a lot longer to edit your photos and therefore causes anxiety to get the job done and therefore you are working long hours to meet your deadlines.
It's important that you spend time with your family and friends and take a break from work because otherwise you'll get caught into a cycle that you may not be able to get out until you burnout.
So set your hours and stick to them.
I will say this, If you have an issue with a delivery of images to a client. It's better to give them a call and explain the situation. That you need extra time to finish, but that should be a once in a blue moon thing, instead of a regular thing.
Setup processes & procedures for everything in your home business
To be successful you need to have a set of processes and procedures for your home based business to run smoothly.
A standard operating procedure ( SOP) can be thought of as the Bible for your business, everything you do in your business and how you do it should be laid out step by step so that you have consistency in your business.
It is a lot of work when you're first creating the documents, once you then done it's useful for theos tasks you don't do as often or if one day you were to hire someone, they can follow the procedures step by step to complete tasks.
In photography we have an on season and offseason and if you haven't worked for months at a time and you may forget why you set up things to be done a certain way. f
The type of document you will create processes for your photography workflow, customer interaction, the setup and maintenance of your website, policies such as what to do for refunds and so on.
Be proactive while working from home
When you work for yourself you've got the opportunity to be proactive and stop issues from becoming ongoing issues. So when an issue does happen 2 – 3 times it should be an indication that something needs to change.
When an issue arises it should become a top priority to fix the problem but also make your customers want to rave about the quality of customer service you gave them to fix the problem.
When I was testing out three printing labs a few years back, I would send big test jobs to all of them, the quality was excellent and so was the delivery time.
What I was noticing is that when I was starting to send bigger paying jobs to the printers the time it took to get back the products were a lot longer than originally promised and also sometimes the quality was not really the best.
It meant I spent time putting in a formal request to fix the issue, which of course ment they had to reprint the jobs, and took even longer to get the products to my customers.
As a result I was apologizing to my customers and I knew in myself that I had to offer my customers something as an apology and it usually meant extra prints or maybe an extra album because rather than the one month lead time I was promising sometimes a blowout to the six – eight weeks, which is really bad.
I did the right thing for my stress levels and had a conversation with the printers but ultimately I changed printers that were of the same quality, if not better but could actually stick to the promised delivery times it took to print my photo products.
So my advice is if you feel something is not 100% investigated quickly and try to be proactive in solving the issues before they become bigger problems for your business and could potentially make you lose customers.
Take regular breaks
Statistics show that we concentrate better when we take regular breaks and the sweet spot is about 30 – 40 minutes before we need to take a break.
It's not to say that you can't work for longer periods without stopping but it is a good idea to reduce fatigue even if it's just getting up to get a glass of water or go to the toilet.
Especially during those days when you're editing photos and it's very easy to get caught up and miss lunch or stay inside all day and not get out for some fresh air and sunshine.
Tip: put an alarm for morning tea, lunch and a break every couple of hours so you take regular breaks.
This way you have at least 3 mental brakes that you force yourself to move, therefore reducing stiffness of your body and also it's great when you get stuck with something or bit fidgety it's nice to break up the day.
I sometimes do the dishes or the washing for 5 or 10 minute breaks that way I can get outside and I won't be stuck in the same room all day.
Stay organised
Keeping yourself organised can sometimes be difficult when working from home and part of the problem is that there can be so many distractions.
We've talked about getting up and leaving your desk so you can give yourself a break but as soon as you enter a different room in your house you may want to put on the TV or go in the kitchen if you haven't prepared your food in the morning and spend time that is just not useful to your business.
I like to keep a to-do list on my desk and a wall calendar of future photography events that I've been hire to do.
I also like to have a weekly calendar that consists of personal and work appointments so I can manage my time better.
There is no perfect solution when it comes to organising yourself it really comes down to what works for you.
I have a disc bound planner and I get my printable inserts from My Idle Moments. They offer regular dated and undated planner inserts and they will print and customise them for you. I did commission them them to create back office forms and printable inserts for my business. Such as the templates I use for my customer information, invoice templates, workflow wall chart and Standard Operating Procedures folder, that are simply template forms with my logo.
At the very least put up a wall calendar and keep a notepad that you can use for to-do and notes when on the phone with clients.
Plan your work week at home
Apart from the work when someone hires me for a wedding or event photography which are usually months in advance I like to plan my week ahead, one week at a time.
I do this because I don't want to overwhelm myself and I know that things can change. Such as when I'm editing a wedding or a big event is going to take me the week to edit the photos and deliver them to the client compared to weeks where I'm in between jobs and I'm concentrating on writing blog posts or doing admin work or posting on social media.
I find that it's really helpful that when I spend some time on a Sunday night, it doesn't have to be long. usually about 30 minutes where I can plan the week ahead and especially my Monday to make sure I take care of the top priorities for the week.
Then at the end of the working day I spent about 5 minutes making sure that the next day and the remaining of the week, my appointments and to-do are in order and making any changes that are needed.
A tip for anybody trying to get organised when working from home is do the difficult jobs first and only aim to remove one or two things off your to-do list a day, that way it's very attainable and you won't overwhelm yourself.
Have a designated workspace
One trap I see some people falling into and myself included early on, is not having a workspace that's dedicated just for working from home where you can concentrate and keep work related paperwork and equipment.
When I first started I used to work from the couch using a laptop, then I migrated to the dinner table. Not long after I added a cheap table from IKEA, nowadays I work from a spare room at home.
Let me be the first to say that as cool as it may be to go to a coffee shop or work on the couch or in the backyard it's great for short periods of time.
But when you want to do a long stint on photo editing or if you are doing some type of admin work it's not really ideal. Plenty of distractions and it's not comfortable after a while and when you actually want to stop you have to pack up and then waste more time resetting up your work area.
It's understandable not everyone can have a spare room that they can make into a home office but there are fairly inexpensive tables or workstations you can purchase from IKEA or most office supply stores that will make a little nook for yourself. An area where you can focus and concentrate and hopefully reduce the distractions.
Having a dedicated area to work from will also make it more comfortable to work for long periods of time without having any back pain or getting any headaches.
Equipment needed to work from home
Having the right equipment such as computers and furniture will make a massive difference as to how productive you are when you're working from home.
There will be a bit of an outlay in money if you don't have a comfortable area to work from but once you purchase the equipment it will last you for a very long time before you need to make any changes.
I should stress that you don't need to buy thousands of dollars of equipment and buy the best. You simply need to buy what's within your price range.
Desktop vs laptop
When I started photographing back in 2004 I opted to use a laptop over a desktop because I needed to edit photos at the venues I was photographing at.
It obviously was the only option when I'm out on site but once I came home. I introduced bad habits like editing photos from the couch, the dinner table, the backyard. Basically wherever I could find space and this led to having constant headaches, because I'm looking down at the screen or hunched over the laptop.
This also brang on back pain because of weird sitting positions like on the couch and falling asleep while editing was not a highlight of my early years as an event photographer.
So the solution was apart from finding a designated area to work fro, was to buy an external monitor and keyboard and mouse so I could connect my laptop and have a bigger screen with her an ergonomic keyboard and mouse and it solved my issues with having back problems and headaches but also forced me to only edit or work on the business during work hours and not all hours of the night which was the norm for me.
So if you're an event photographer and you do not need to edit photos at the client site I recommend getting a desktop.
I'm not going to go into the argument as to what's better Mac or windows, I'll leave that up to you but generally with windows you will get better value for money.
But the idea is to get yourself a nice big screen, something at least 21 inches and larger. You could go for a 2 monitor setup, use one monitor for the editing and the other for displaying the photo library.
It also works well if you're doing admin work, you can have two large documents on the screen.
You could go for the super wide screens that are popular these days. They are more expensive but it means you just need one monitor and you can have several windows as if you have got two to three monitors which I think is the a good option. I currently use a 30in screen and 22in as a 2nd screen for documents and email.
As for laptops if you're working from home and you are limited by space they are definitely a great solution. Try to make the area as ergonomically sound as possible to avoid RSI or back and neck pain.
If you don't have room for an external monitor. Prop your laptop on a stand so the screen is at eye level, then simply attach a keyboard and mouse and you can have the best of both worlds. A computer you take on site and when at home an ergonomic workspace using the same computer.
Desk or workstation
Having a designated area such as a desk or an all-in-one workstation is something that you should be working towards.
You need a space where it's nice and clean. If it's a shared desk, In the beginning it's fine, as long as the desk is at the right height and it has enough room for all your things and is not cluttered.
Ideally it would be preferable if you could have a table or workstation that has some sort of adjustment built into it either at the legs. There are some workstation desks where you can make adjustments for the keyboard and monitor.
Just remember that when you're typing at a table your elbow should be at a right angle when you're typing to reduce repetitive strain injury or RSI.
Your monitor should be at eye level, you should never be looking down hunched over the screen and the same thing applies with the keyboard and mouse they shouldn't be too far forward, they should be at a good comfortable distance from your body.
Adjustable office chair
With hundreds of different types of office chairs on the market, you'll have to go and sit on a few chairs to get an idea as to what you'd like but I've started to see a good trend in manufacturers showing how many hours you can comfortably sit in their seats.
Most seats in the lower to Middle range can accommodate 3 to 5 hours of continuous sitting at least that's what some manufacturers recommend.
Whichever seat you purchase. Make an effort to try it out, making sure that it is adjustable with a gasket, so you can change the height of the seat and the backrest is also important because everyone's body type is different, so it needs to support your back comfortably..
As for armrests I can't honestly say that I've used my arm rest of my seat all that often. When I'm typing my arms are resting on the table, the armrests are tucked under the tables making them useless and can get in the way when setting up the chair. I do tend to use them when on the phone and leaning back in my seat, but that's about it.
Foot rest
I have a bad tendency to put my feet on the base of my chair which I know is a big mistake because to be comfortable and to not fatigue when working from home for Long period of time you really need to have your feet flat on the ground or at least your knees at a right angle. A footrest is a good solution if you are quite fidgety when it comes to sitting for long periods of time or the desk is too high and your feet don't reach the gound.
Footrest range from $15 off way up to $100 just be careful with all plastic footrests. I've broken them over the years by stepping on it to get up or push myself away from the table, snapping them in half.
Monitor
As photographers having a good screen that can be colour calibrated is essential to our photography workflow and especially if we do printing.
My personal philosophy to buying a monitor is the bigger the better. I find that monitors over 21 inch work well. A good amount of real estate to work with a photo or if you want to split the screen and work with documents.
Of course you can go the two screen route allowing you to get to smaller screens and having similar real estate as if you had one big screen.
My current setup is using a 30 inch screen which I've had for many years and I know that there's a big push now for super wide curved screens.
Whichever screen you do choose , make sure it has enough adjustment controls like brightness, contrast and temperature at the very least and also gamma because when you're using a colour calibration tool like the spider you need to make these adjustments.
Keyboard & mouse
Keyboard and mouse normally come with your computer, unless you have a customer built system where you can choose your setup.
Logitech makes excellent mice and keyboards, it's important to go out and have a feel to make sure that the keys are we'll Spaced and that there is wrist support or not too high.
As for what mouse to get, depending on the shape can actually determine how comfortable using it for long periods will be. Can you imagine editing an event with 3000 photos use the mouse or keyboard?
Think of how many clicks you actually do with the mouse or key presses with the keyboard during a session. So finding a combination that is comfortable reducesses RSI making editing that a bit more enjoyable.
Backup solution
For anyone in business you need to have a backup solution not only for your photos but also important documents, such as contracts and financial documents.
You don't necessarily have to create an automated solution although convenient, there is usually a lot of setup that you need to do beforehand.
But when you're just starting out you can start with a very manual solution such as using external hard drives, making copies of files, all important files and then putting the hard drives somewhere safe.
You should strive to impediment the 3, 2, 1 backup method
Which is 3 copies on two separate media, with one of those copies being off site.
As a minimum get yourself two external hard drives.
One copy will be on your computer of all your photos and files. Then two copies will be on each of the portable hard drives, make sure to take one of those copies off site.
This way you'll have a very basic backup solution. You could replace one of those hard drives with a cloud backup solution which can be automated but just be aware that if you're backing up RAW image files it can take a while to complete a backup.
Make sure to include your backup solution at the beginning and at the end of your photography workflow to make sure you are covered.
Paper storage
Paper storage as in a filing cabinet is probably not as exciting as the other equipment we talked about. But as a small business owner and especially working from home you need to have a place to put your legal documents, receipts for tax time, contracts with the customers and any other procedures that you may need to run your home business.
Of course you don't need a full size filing cabinet. I find there are little storage units with suspended folders that work well. You can buy a box of Manila folders and the suspension folder to go with them and they will last you for years.
This is something that you should probably get as one of the first things for your home based photography business. When it comes to tax time you need to be organised otherwise you could face penalties if you don't Lodge your tax on time. Plus when your paperwork is in order you're going to be more relaxed and confident.
Reward yourself
Owning your own photography business should not be all work and no play. it's very easy to get caught up with to-do lists and timelines that you need to deliver photos and products.
But one of the benefits of working from home is having flexibility to do something else.
You shouldn't really interrupt your work day but there are times when you need to just get out of the office, it could be an important family appointment or you just need a day off.
It doesn't have to be anything big. It could be an hour or two at the end of the day or say every Friday you may want to take half a day off to get some time with your family or do some errands. When was the last time you enjoyed one of your hobbies?
Whatever it is, don't feel guilty it's part of the perks from working from home and business owner.
Conclusion
Working from home as a professional photographer can be extremely rewarding but you need to put in the effort. It definitely won't happen overnight and don't get caught up with any quick shortcuts, you need to be thorough with all the steps, prioritise your tasks.
Look after your health and well-being first and your customers second this is what I've done for 15 years and it's made me a lot happier.
I will warn you there are lots of ups and downs, times where you won't have consistent work and that's when you won't completely understand until you have worked from home for at latest 1 -2 years on how to best to manage and fill those gaps of no work.
Start small, get your policies and procedures in place. Jump on any issues immediately that come up, champion customer service and you'll be successful.
Good luck