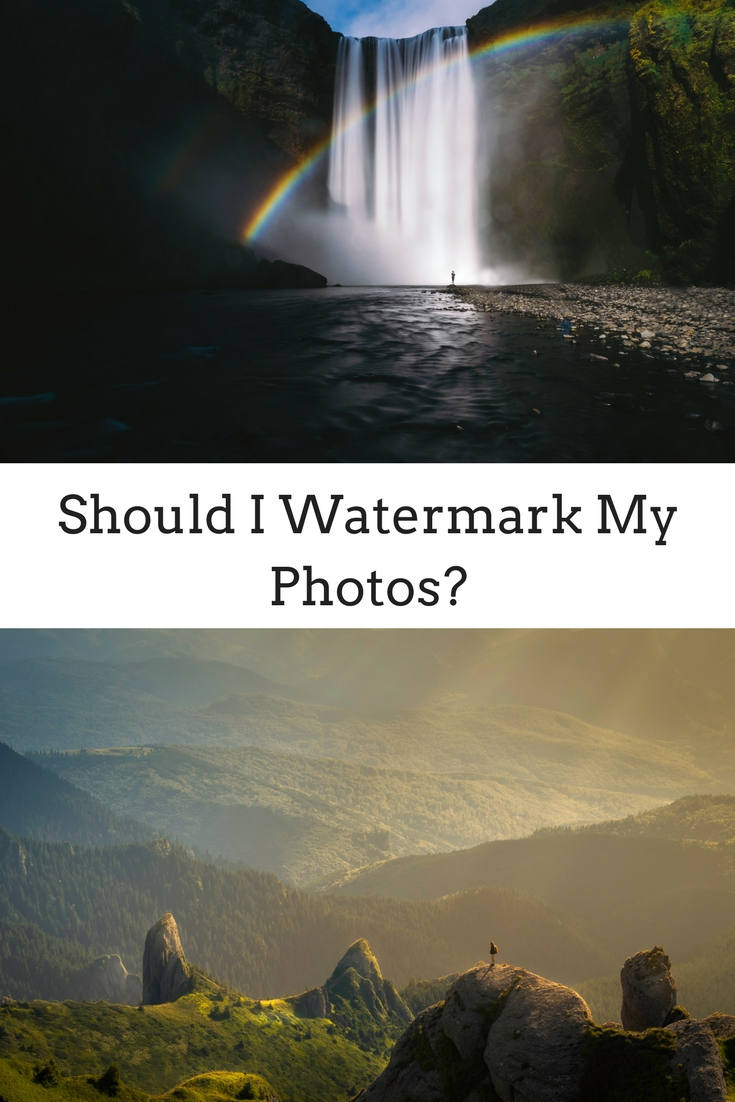 Today's question is from George who asks:
Question:
Should I Watermark My Photos?
I want to protect my photos online, personally i find watermarks look ugly.
Currently I have two logos one a simple picture and one just as text.
I've also noticed a lot of photos on Instagram don't have a watermark is this a new trend?
What should i do, Watermark or no watermark?
In today's episode: Should I Watermark My Photos?
What watermarking is a personal preference

People will steal your photos regardless and crop out your watermark

Using a watermark as a branding tool

Adding a Watermark in the photo

Adding a Watermark to a border around the photo

Adding contact details to Metadata  / IPTC details

Free template for Facebook & Instagram
What Watermarking Is A Personal Preference
I personally find. It's one of those things where a lot of people think it's a bit old school, and when digital photography became popular you would put your watermark to kind of show this is your work, and then of course people put it there to deter people from stealing their work. And what I found, people are gonna take your work regardless if you put a watermark or not.
People Will Steal Your Photos Regardless
I've had clients where they've gone to the extent and cropped out a quarter of the photo and this is from a portrait section, so they're missing a good part of their torso … to put it on their Facebook and  Instagram. It just annoys the hell out of me, the great lengths people go to. It's amazing. So, sorry, George, but you can't stop people from stealing your stuff online. If you have a website you can disable right click, but then if you post photos on Facebook, one of the menus, I believe, it even ask you the question, "Do you want to download the photo?"
So lot of people that are on Instagram that don't have a watermark, I think a lot of it's got to do with aesthetics. Because, as I mentioned, when you got a watermark, and you're trying to prevent people from stealing your photo, maybe a client or somebody that just wants to do silly things and profit from it, you've got to put it in such a ridiculous spot, like in the middle of the photo to deter people. But then it just makes your photos look crap.
Using A Watermark As A Branding Tool
And I think using watermark as a branding tools as opposed to a deterrent from people downloading your photos is probably a better option.
Having your logo, it could be in the corner, or it could actually even have a white background around your photo, and then having the logo on that border. That's a technique that I've started to use lately. I find that it … I still have my branding there, and everything I put online has that. It's not gonna stop people from stealing your stuff, but if clients see it enough, or friends of clients see it enough, they will ask about you, and hopefully your past clients will pass on your details.
Now, the idea of protecting your photos online, there's a few things you can do. You can have plugins that disable right click on your website, on your WordPress website, or some of the better known photo websites out there have that ability built in. Which is good, but people can of course take a screenshot of your photos and take 'em that way.
Adding Contact Details To Metadata / IPTC Details
One way that I have been doing for years of keeping, I guess, my photos not completely protected, because that's impossible, but at least keeping my information with them. And that's actually using metadata within my photos, the IPTC details. Both Lightroom, Photo Mechanic, Photoshop, any good editing software will allow you to add that.
Lightroom allow your to add presets, which is excellent, so of course does PhotoMechanic, and I'm not 100 percent sure about Photoshop, because I don't use that for that purpose. But you know, the thing is that your photo's gonna be online and anybody can take them. If you add the metadata along with a photo that has maybe a watermarking that's not so obtrusive, meaning not right in the middle that says proof, somewhere in the corners, or even as a border with a small logo there.
Adding metadata such as your details, like your name, your website, a postal address. Never add your physical address. A post office box is preferred.
Adding things like copyright information, there's contact information you can place in your metadata and your IPTC details.
And it doesn't add to the size of the photo. If any, it's really really small. You'll find a lot of photojournalists use this technique.
When they edit their photos they add the IPTC details to the photo, and they upload that for the editors. And what happens is that the editors, if they know their job, they will look at the metadata and credit the photographer.
Also, when you add metadata or the IPTC details, and you upload to galleries such as SmugMug, Photoshelter, shootproof and all these other types of online galleries, you have the ability to add key words, and the keywords will alow you to be able to search your work, if that's how the website's set up.
Also, WordPress, if you have this information in WordPress, it adds the caption. Which is good for SEO, and of course gives a little bit of information about the photo.
That's what I generally do, and you're not gonna stop anybody completely ripping your stuff off, but putting it in a place where it is unobtrusive and used for branding purpose as opposed to security, it's probably your better bet.
Now there are some photographers that I do follow … and I've noticed that you said you've got two logos: one that's a small picture and another that's got text.
There's a photographer that I follow, and they have a small little logo, and they place very close to the subject. So if it's a bride, they place it quite close to the subject.
I'm guessing they do that for two reasons: one, if someone's gonna rip it off they're gonna have to go to great length to crop it out or use the clone tool.
Also, for prospective brides, when they look at it, it's right next to the main subject of the picture.
Even though it is right in the middle of the picture, it's not completely obtrusive and it's got their logo. It's a very small logo, I believe it's just a circle with a B, and yeah that's on all their advertising material, so yeah. It's one of those things where if you get your clients to see your logo enough you can use it as a branding tool.
Free Templates For Facebook & Instagram
Also I should note that I do have a free set of templates, which I will put in the show notes, and these templates are presets for Lightroom, and they allow you to export your photos to Facebook and Instagram using the print module.
[thrive_leads id='322′]
Which is very cool. A lot of people don't utilise the print module in this way. They assume that it's designed for printing solely, which is wrong, because it's actually quite powerful. You can do collages, you can do watermarks, and you can do mini collages with watermarks, which is quite cool, and I do that for clients.
But the templates that I'm offering for free, they're completely free, they are for Facebook and Instagram, and what you can do is just add your logo to the little border that's there. And that's a quick way of continuing your workflow from Lightroom, if that's the editing software that you do use. So as you export you can export a high resolution photos and then you can do a set for your social media and photos that way.