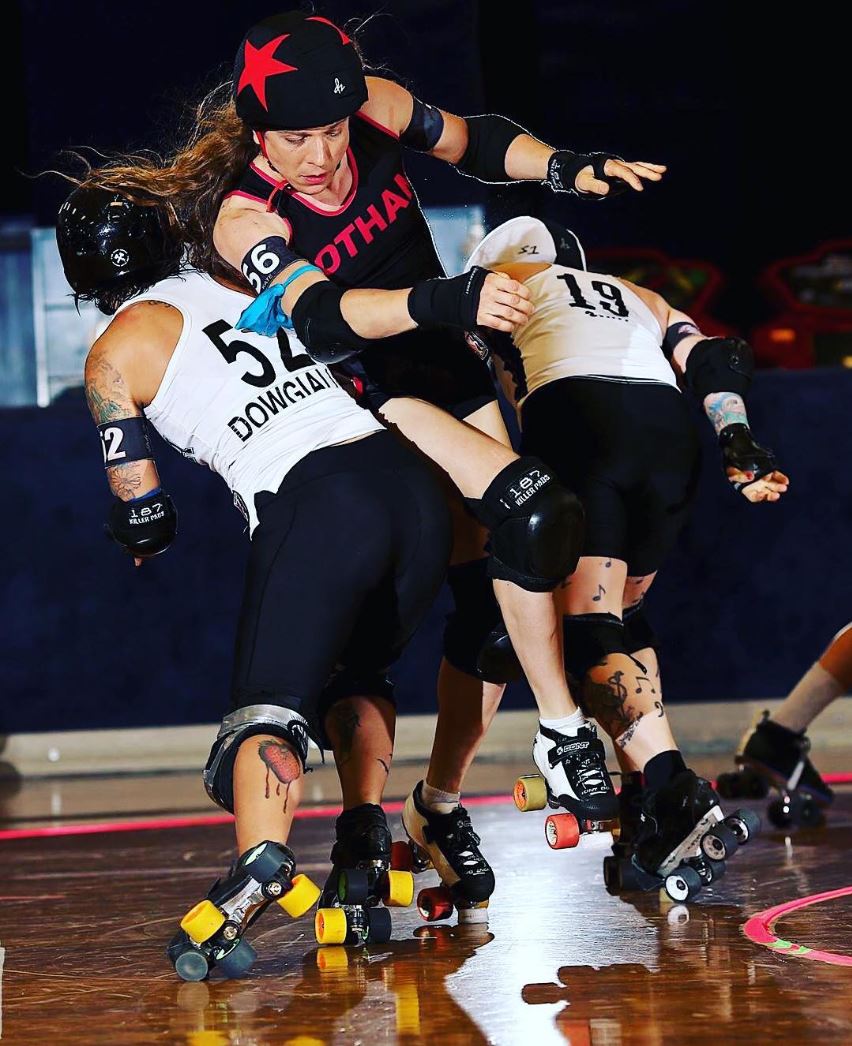 Today's interview is with David Ortiz of Phantom Photographics.   He is an international roller derby photographer based out of Orlando, Florida.
His sports photography puts you right in the thick of it. Capturing both the peak action and those in between moments.
Setting up his own external lights to photograph in the dimly lit rink. His colour photos are vibrant and black and whites are moody.
His photos have been published on espn.com, Derby central and a host of other league website including the WFTDA website.
To find out more about the women's flat track Derby Association head on over to the official website.
Follow David on Instagram and Facebook to see more of his work.
1. How did you get into photography and how long have you been photographing?
I started back in 2008, I sold cameras at a retail chain and had no idea on how to sell a digital SLR. So I purchased one and the rest is history.
2. What was your first camera and where is it now?
My first camera was a Canon Rebel XTi, great camera to start with, very simple and relatively durable. After 3 years I purchased a Canon 60D which was my favorite cropped body and eventually upgraded to a 5D Mark ii and finally to a 5D Mark iii. I actually sold my rebel to a friend so hopefully it's still in their possession.
3. How did you learn your photography?
I learned by reading, experimenting and YouTube. I've never taken a class on photography, basically self taught.
4. What camera system do you currently use?
I currently use a Canon 5D Mark iii which I've had for about 5 years now.
6. How many times a week do you get out to take photos?
Usually on the weekends only, I have a day job so by the time I get home I'm to tired to do anything else.
7. What type of photography are you most passionate about?
I've been shooting Roller Derby professionally since 2011. I just recently got into boudoir and burlesque photography, but I think my passion lies in street and architecture photography.
8. How did you get into photographing roller derby?
A friend of mine started skating locally and i had no idea that my city had a league. So i went on to their website to check the photos out and I thought that I can do better.
9. What type of lighting do you use when photographing roller derby?
A 3 -4 speedlight setup. I use a Yongnuo system to trigger the lights, the speedlights have a built in receiver and I can change zoom and power through the control.

10. Tell me about your approach when you go out to photograph, Are you looking for anything in particular. E.g camera setup, locations, type of light etc..
I'm a stickler for lighting. I'm predominantly an ambient shooter when I'm not doing derby, I'm a sucker for beautiful natural light.
11. Are there any photographers who you take inspiration or have influenced your photos?
To many to name, they all have unique styles that I try to draw from or attempt to incorporate.
12. What is your preference Jpeg or Raw?
Both actually, depending on the shoot or situation I like JPEG to edit faster.
13. What software do you use to edit your photos?
I use Aperture a proprietary Apple product.
14. Step us through your photography workflow starting from when you download your photos.
1. Upload to my Laptop
2. Catalog my favorites
3. Edit my favorites
4. Upload to the Net
14. Do you use any tools or accessories to speed up your photography workflow?
My best friend is my pelican case.
15. How do you keep your photos safe? Do you have a backup system or play it lucky? ( Explain how it's setup )
I have two seagate portable hard drives and two USB thumb drives that I back up my important projects to.
16. How do you organise your photos? ( Are your photos organised in a particular folder structure? )
Not really, I just name the folder after the event that I shot.
17. Do you print your photos or keep them digitally? ( If you do print, what type of printing )
All digital. I never print my images, if I do it's an extremely rare situation.

18. What are your thoughts on photography competitions?
Not a huge fan, I've never entered one. My least favorite thing is a photographer who is cocky in regards to accolades.
19. If you could change anything about photography industry, what would it be?
Nothing really comes to mind. I think this industry is purely photographer driven or I would hope that it is.
20. If you could take photos with anyone for one day, who would it be and where would you go?
My friend Bill Zingraff in Portland Oregon, he's my inspiration for street photography.
21. Your camera bag suddenly catches fire. You can only save 3 things, what are they and why?
Camera body and two lenses (135 mm and 17- 40 mm) for sure haha.
22. What advice would you give to a new photographer that you wish you knew when first starting out?
Be creative and don't be afraid to try new things. Photography is YOUR vision of the world.